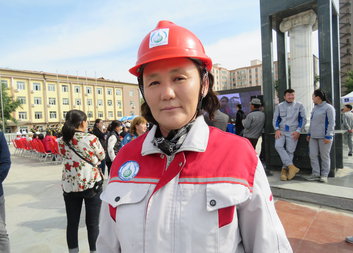 Caritas Czech Republic (CCR) in Mongolia joined in Builders' Day, which was organized on the occasion of the 93rd anniversary of the establishment of the construction sector in Mongolia on the 6th of September in order to introduce the project to the relevant parties and promote the activities accomplished under the project on improving Construction and demolition waste (CDW) management in Mongolia. The project team displayed project outputs including study books, reports, handouts, brochures and samples of CDW-based product.
The event took place at Builders' Squire with the presence of all levels of representatives of the construction sector including the Ministry of Construction and Urban Development (MCUD), Construction Development Center, non-governmental organizations including Mongolian National Construction Association, Mongolian Builders' Federation, Mongolian Association of Construction Materials Producers and members of those associations as well as delegations of construction companies. Organization of the whole event was led by the MCUD and included speeches and awards to the best companies that contributed to the development of the construction sector in Mongolia.
CCR has successfully reached out to the construction sector representatives as well as general public during the event. Project results and outputs were shared with the visitors. As a result, event participants learnt about CDW management in Mongolia and what CCR is implementing to improve the field. Visitors who wanted to receive further information and project publications were registered and received the requested files electronically to increase their understanding of the project and of CDW management.