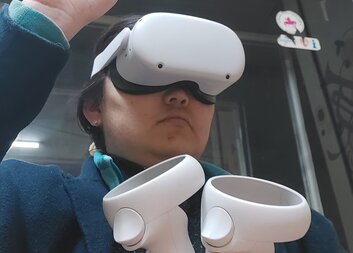 How we are using virtual technology for social good
A strong and empowered civil society is the key to a more sustainable world. Mongolia has an active and diverse group of civil society organisations that are accelerating the development of the country. Unfortunately, they often lack the technical capacity, knowledge, experience, and resources to effectively achieve their goals, especially in rural areas. We handed over virtual technology sets to youth-focused NGOs in the countryside and Ulaanbaatar, to help them better contribute to civil society.
Expanding horizons and preventing abuse thanks to virtual reality
"Young people living in remote provinces have limited access to technological tools, especially virtual technology. We will actively use this tool to organise policy advocacy events and various trainings for local youth. I would like to express my gratitude for this opportunity," said Bertsetseg.S, Coordinator of the NGO Strong Youth Wave in Dornogovi province.
Together with the Center for Citizenship Education and Mongolian Youth Youncil, we organised a Virtual Reality competition under the All for YOUth, YOUth for all project, and provided 5 sets of VR devices to 5 youth NGOs, such as the one Bertsetseg.S works at. The VR sets will help the organisations to improve their capacity and learning opportunities.
Through this activity, we want to enable people in isolated and rural communities to expand their horizons beyond borders and cultures with the help of technology. This will also build solidarity and partnerships among youth NGOs. The new opportunities and features provided by the virtual reality will give them access to a whole new and innovative way of learning and growing regardless of time and distance.
In the competition, the NGO Beautiful hearts won the VR set thanks to its advocacy work of teaching parents, young people, and children to recognise safe and unsafe physical touch using the VR technology in order to raise awareness about how to prevent sexual and other abuse. 
Virtual Reality could transform the lives of people with disabilities 
The NGO Buteemj Tuv was awarded the VR set for its proposal to create an accessible and inclusive environment for the deaf community in a virtual environment. This will allow them to showcase examples of an inclusive environment using virtual technology to the decision-makers and public. Moreover, another VR set was awarded to the advocacy project of the NGO Universal Progress that is devoted to the development of disabled youth.
"We are glad that we participated in this competition and won the VR set. Our NGO Universal Progress has an Independent Living Centre with about 160 members who are people with different disabilities. It is impossible to walk, ride a horse, climb a mountain, and do roller coasting for people with congenital disabilities [on a wheelchair]. But now we are able to do such activities in an artificial environment using VR technology. Such opportunities can reduce stress, make us feel wonderful, and boost our motivation. With VR devices, we will make the dreams of people with disabilities at least partly come true. In addition, we will also apply the VR device to actively influence policymakers," says N.Munkhjargal, Executive Director of the NGO Universal Progress. 
Furthermore, a total of 10 organisations selected in the first round of the competition have been granted a one-year license to use the virtual technology platform that will allow them to improve their advocacy activities for the public.
About the project: The Caritas Czech Republic, Center for Civic Education, and Mongolian Youth Council implement the "All for YOUth, YOUth for All" project with the financial support of the European Union and the Ministry of Foreign Affairs of the Czech Republic in 2020-2023.
The objective of the project is to strengthen the capacities of youth NGOs, create a network of youth cooperation, increase youth participation in governance, decision-making, and public policy implementation, and strengthen civil society through advocacy and research on youth issues. The project is implemented in Ulaanbaatar, Khentii, Selenge, Dornogovi and Bayankhongor provinces.