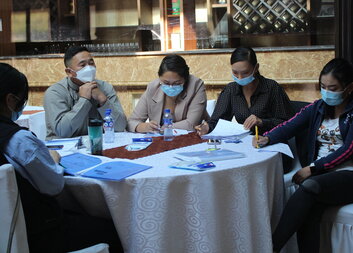 "All for YOUth, YOUth for all" project is empowering future generations and civil society
Do you know what challenges young people and youth civil society organizations (CSOs) face in Mongolia today? Many studies say that it is difficult for young people to find decent employment opportunities, gain quality education and participate in social activities. Also, one of the biggest challenges is to find funding for their activities and initiatives. Thanks to the European Union and the Transition Promotion Program of the Ministry of Foreign Affairs of the Czech Republic, the "All for YOUth, YOUth for all" project is empowering the emerging youth and youth CSOs to participate in the development and decision-making in Mongolia.
Eye-opening training session

Under the project, a three-day "Training of Trainers" was organized twice in August and September 2021 to build youth CSO capacities. 48 young people from Khentii, Bayankhongor, Selenge, and Dornogovi provinces as well as Ulaanbaatar participated in the training. Successful youth CSOs' leaders and activists shared their tips and best practices on how to successfully run NGOs and raise funding. This way, the participants learned how to write project proposals by identifying local issues and solutions. Consequently, the trained participants will conduct further trainings for local young people and youth CSOs.
"I have attended a lot of training sessions but this training is an eye-opener for me. I have learned a lot about how to write a project proposal based on the needs that will eventually help me lead my youth NGO better. I will start applying the acquired knowledge step by step at my work. From the experts who shared their best practices and their experience with us, I have understood how important the setting of a clear goal and vision is. Finally, I only knew a few CSOs before, however, I have met many new people from many different CSOs during the training and realized the importance of CSOs working together," shared J.Ariunzaya, one of the training participants.
Moreover, we created the Facebook page named "Dos and Don't" (Жишээ ба бишээ) encourage young people to vote in the Presidential Election 2021 and to promote their participation in social activities through advocacy posters. It successfully delivered the contents about what should be done and what should not be done for being better young adults and how important young people's participation and their voices are in a democratic society. All posters were designed for young viewers to understand their opportunities in the democratic state. The group has attracted many young Facebook users and gained more than 4300 followers within just one month.
In the coming months, we will organize capacity-building training sessions in all target provinces. The training sessions will provide new knowledge on internal governance, project management, financial and technical capacities, network, advocacy, and visibility for the youth CSOs. After the training sessions, the youth CSOs will have an opportunity to participate in the Small grant project competition. The selected CSOs will implement their projects to make positive changes in their community.
Finally, the project team will organize a Virtual Reality competition among the youth CSOs. The activity aims to build solidarity and partnership between youth CSOs and provide them with a chance to gain new knowledge and skills through using innovative and advanced ways. We are excited about the activities that will be organized in the next couple of months. Stay tuned!