Best of 2021 in the Caritas Czech Republic in Mongolia
Looking back at the first two years of the pandemic, it has not only had negative impacts, but also some positive ones, such as making us more resilient. The Caritas Czech Republic in Mongolia and its partners focused on the positive impacts and continued supporting people in need, particularly young people, and reducing the negative impact on the environment through online as well as on-site activities.  Here are the moments of 2021 that should not be forgotten:      
1. We are establishing the first fully operational waste management facility in the rural area in Mongolia and educating locals on how to properly sort and manage their waste
Mongolia is suffering from plastic pollution and does not have enough facilities to deal with excessive plastic waste. That is why we have been aiming for the past two years to establish an efficient plastic waste management system and to support the development of the plastics recycling industry.
In the framework of the project "Sustainable Plastic Recycling in Mongolia" (SPRIM), the local organization Ecosoum is currently constructing the first fully operational waste management facility. Once the construction is completed, people in rural areas, especially in the Mongolian soum of Khishig-Undur, will start recycling and sorting waste instead of throwing it directly into landfills. The facility is due to be operational in 2022, after which the first tests and trials with the new recycling machines will begin.
Khishig-Undur soum previously had no waste management system, no recycling processes and has one of the biggest landfills in the province; yet it is striving to become the first zero-waste soum in Mongolia.
Тhe SPRIM project is funded by the European Union (SWITCH-Asia program), with four project partners environment and Security Center of Mongolia, Ecosoum, Mongolian Sustainable Development Bridge and T.G. Masaryk Water Research Institute.
2. We developed policy recommendations to increase youth employment and submitted them to the Ministry of Labour and Social Protection in Mongolia
Mongolia is a country of young people. The young women and men aged 15-34 make up 34.6% of the overall population. However, this age group also constitutes a staggering 57.7% of all unemployed people which means youth unemployment is a pressing issue in Mongolia. That is why we are focusing on improving youth employment, strengthening the capacities of youth NGOs, and also motivating young Mongolians to start volunteering, which can increase their chances of getting a job.
We have also helped to establish a Working Group which consists of officials and experts from the civil society, private sector, government authorities and academia, and aims to improve youth employment. After a series of discussions, studies, desk reviews and other public discussions, this Working Group developed policy recommendations that will support youth employment and entrepreneurship in the long run.
The policy recommendations to support youth employment tackle the issues of both employees and employers as well as supply and demand in the job market. The members of the Working Group have presented and introduced them to the young people and other relevant stakeholders. Finally, the recommendations were submitted to Mr. S. Zulpkhar, Vice Minister of Labour and Social Protection in Mongolia, on 25 November 2021. Learn more about the recommendations.
These activities are carried out within the project "All for YOUth, YOUth for all", funded by the European Union and the Ministry of Foreign Affairs of the Czech Republic with two project partners the Mongolian Youth Council and Center of Citizenship Education.
3. We supported vulnerable people affected by the impact of COVID-19
Like in any other country, the strict lockdowns and isolation hit hard especially vulnerable people in Mongolia. Most people who live in the ger district areas in Mongolia were not able to pay for their food. With the financial support of the European Union, the Caritas Czech Republic in Mongolia delivered humanitarian packages worth 64 million MNT (18 200 EUR) to the Red Cross in Mongolia. The packages were distributed to 520 households that were facing challenges as a result of the COVID-19 pandemic and related state of emergency.
Learn more about our help in Mongolia here.
4. We were teaching local people how to tackle plastic pollution and protect the environment
Education about waste management issues is crucial to changing people's behavior. We have organized several awareness-raising activities to teach the Mongolians about waste management and to mobilize them to protect their country's environment.
As part of our SPRIM project, we supported the "Don't Just Throw it Away" behavior-change campaign organized by Ungu Nem NGO, in collaboration with Plastic Center and Lantuun Dohio NGO. This campaign tackles two critical issues: waste management and child abuse prevention. For the waste management track, the main objective was to raise awareness on sorting waste and through the placement of collection bins at large supermarkets to collect raw materials for Plastic Center, which manufactures pit latrine linings from recycled plastics. 
The campaign had also one more positive outcome. After the locals learned about the issue of plastic pollution and the ways to deal with it, they decided to build a children's playground which is made entirely of collected plastic waste.
As we mentioned, plastic pollution is a serious issue in Mongolia. However, there are ways to deal with plastic, and upcycling the waste may be one of them.
Furthermore, we have also organized several training sessions on the 3R principles (reduce, reuse, and recycle) at schools and kindergartens, civil society organizations, and local administration offices. We have produced awareness-raising leaflets, videos and sorting guidelines for offices and shared them to educate and inspire people on how to properly sort and manage their waste.
Read more here.
5. We supported social entrepreneurs and young civil society organizations 
Businesses and young entrepreneurs were challenged by the   COVID-19 pandemic and the strict lockdowns it brought in late 2020 and early 2021. Strict lockdowns and restrictions on public gatherings have led to less interaction with customers and thus reduced revenue and even the closure of many businesses in Mongolia.
Small and medium businesses had to adapt their business models to react better to the changing environment. Within our "All for YOUth, YOUth for all" project we organized the 'How to convert your traditional business to online' online training for young entrepreneurs, and small and medium-sized entrepreneurs. Through this online training, we aimed to promote youth employment and entrepreneurship, while empowering young people in this unprecedented period of time. Various trainers shared their know-how and tips on innovative ways to grow the business, freelancing, and profit opportunities using online platforms and IT-based solutions. 
Furthermore, the Business Competition among the social entrepreneurs, youth CSOs and young business owners took place in order to boost youth employment and to create job opportunities for rural young people while promoting social entrepreneurship at the local level. Three business project proposals have been selected and they are implementing their project with the awarded grants.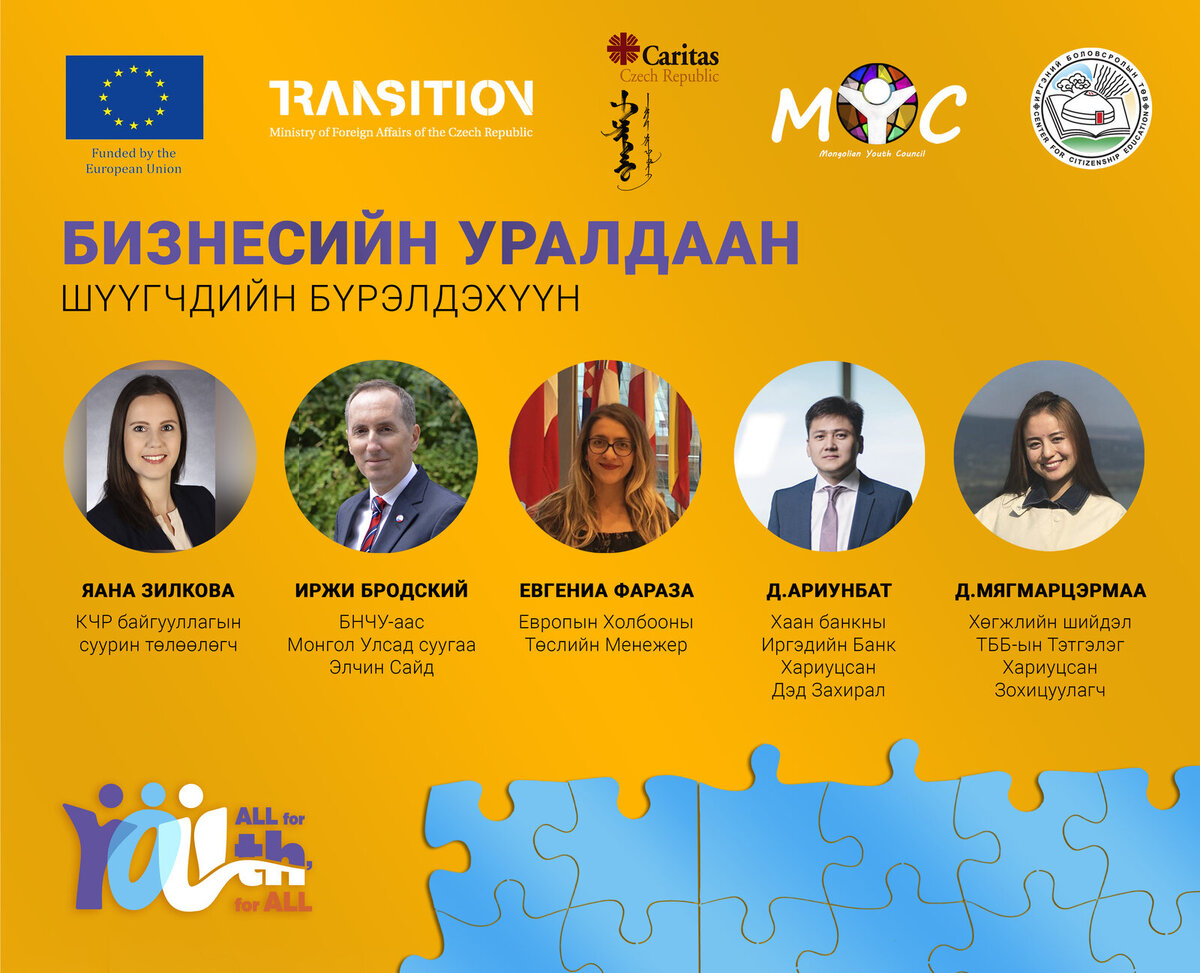 We c
ontinued
supporting the most vulnerable people
even during the hardest time of the year
Caritas Czech Republic in Mongolia did not let the pandemic stand in the way of project progress and continued conducting activities by taking advantage of online platforms. 
We know that providing humanitarian assistance and supporting millions of people in need across the world, and continuing to work on projects to address the root causes of these problems is important, especially in times of pandemic.
Caritas Czech Republic in Mongolia will focus on supporting people and will continue to do so in many years to come.