Building a society where young Mongolians thrive
Do you know what problems young people face and how we can support them to shape a better world? Despite the fact that young people represent a third of Mongolia's population, they face many challenges and are underrepresented in all sectors. Thanks to the support from the Ministry of Foreign Affairs of the Czech Republic, we have been training young Mongolians and helping them to become active members of society.  
Overcoming challenges
Young people in Mongolia lack access to quality education, face disruptions of learning due to the COVID-19 pandemic and do not have enough opportunities to be involved as contributing members of society. As a result, young people often lack the skills to participate actively in the labor market, but also in civil society.
Thanks to the support from the Ministry of Foreign Affairs of the Czech Republic through the Transition Promotion Program, we have organised innovative trainings to many young people and representatives from youth civil society organisations (CSOs) and and helped them develop soft skills on youth participation and advocacy. Furthermore, youth CSOs were enabled to make their projects and initiatives more attractive and youth-centered and to apply innovative solutions in their everyday work in their communities. All the activities were organised as a part of the 'All for YOUth, YOUth for all' project funded by the European Union.
Expanding horizons for isolated and rural communities
Our team has organised a Virtual Reality (VR) competition and provided 5 sets of VR devices to 5 youth NGOs to improve their capacity and learning opportunities. Through this activity, we wanted to enable people in isolated and rural communities in the countryside to expand their horizons beyond borders and cultures with the help of technology. Furthermore, we helped to build solidarity and partnerships among youth NGOs. The new opportunities will give them access to a whole new and innovative way of learning and growing regardless of time and distance.
"Young people living in remote provinces, have limited access to technological tools, especially virtual technology. We will actively use this tool to organise policy advocacy events and various training for local youth. I would like to express my gratitude for giving us this opportunity," said Bertsetseg.S, Coordinator of the "Strong Youth Wave" NGO in Dornogovi province, who participated in our competition.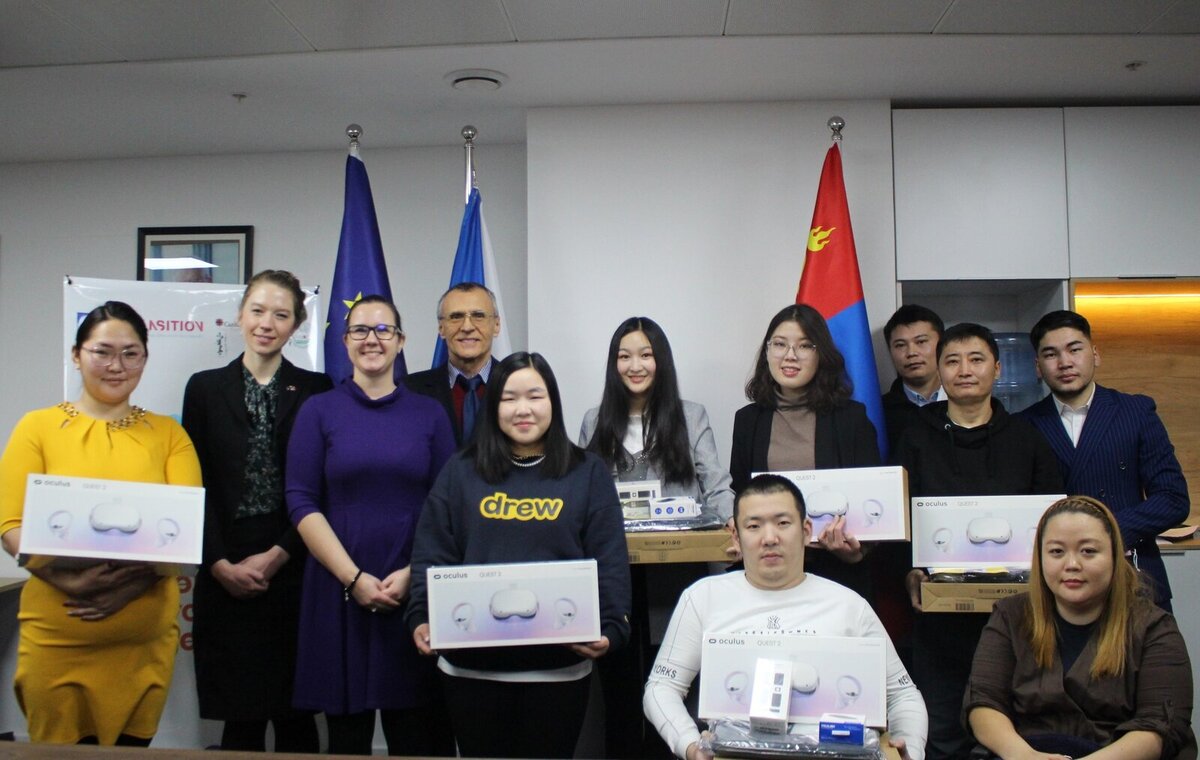 E
ye-opening training session
We have also organised a three-day Training of Trainers in August and September last year to help build the capacity of youth civil society organisations. 48 young people from Khentii, Bayankhongor, Selenge, and Dornogovi provinces as well as Ulaanbaatar participated in the training. Successful youth CSO leaders and activists shared their tips and best practices on how to successfully lead NGOs and raise funds. Participants learned how to write project proposals by identifying local challenges and finding solutions.
"I have attended a lot of training sessions but this one but this one was an eye opener for me. I have learned a lot about how to write a project proposal based on the needs that will eventually help me to better lead my youth NGO. I will start applying the acquired knowledge step by step at my work. From the experts who shared their best practices and their experience with us, I have understood how important the setting of a clear goal and vision is. Finally, I only knew a few civil society organisations before, but during the training I have met many new people from many different CSOs during the training and realised how important it is for CSOs to work together," shared J.Ariunzaya, one of the training participants.
The trained participants then conducted capacity-building training for local young people and youth CSOs. Two-day capacity-building training session was held in all target provinces, namely Bayankhongor, Dornogovi, Khentii, and Selenge provinces and Ulaanbaatar city for a total of 121 participants. The capacity building training' topics included NGO management, strategic planning, financial and human resource management, proposal writing, and many others. 
We helped strengthen the civic and political participation of youth
Lack of youth participation in policy and decision-making is a key issue in Mongolia. This problem is partly due to the lack of awareness among young people about the value of such participation. Therefore, our team carried out a campaign to promote the civic engagement of youth and provided small grants to youth NGOs to bring their project proposals to reality.
In order to support youth initiatives and youth-led NGOs, we have also announced a small grant competition among youth CSOs in the 5 target locations. S
mall grants of 550 EUR were awarded to six winning NGOs (Powerful Youth Waves NGO from Dornogovi aimag, Knowledge, Partnership, Success NGO from Bayankhongor aimag, Wind of Changes NGO from Ulaanbaatar, Gurvan Tsagiin Ayas NGO from Ulaanbaatar, Mongolian Carl Popper Debate Club from Ulaanbaatar and Youth-Power of Development NGO from Selenge aimag). All recipients
successfully realised their projects. As a result, youth civil society will be in a better position for meaningful
participat
ion in policy and decision-making at local and national levels.
Moreover, we helped to create a Facebook page "Dos and Don't" (Жишээ ба бишээ) to encourage young people to vote in the 2021 Presidential Election and to promote their participation in social activities through advocacy posters. The campaign has successfully delivered content on what should and should not be done for being better young adults and how important young people's participation and their voices in a democratic society are. All posters were designed for young viewers understand their opportunities. The page attracted many young Facebook users and gained more than 4300 followers within just one month.
Overall, the activities implemented under this project have significantly contributed to the youth and youth NGOs' development by enhancing their knowledge and encouraging their engagement in the decision-making process.