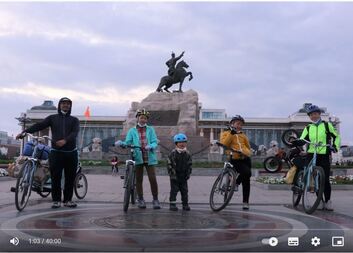 Waste pollution has reached an alarming level for us while on a bike trip, says Mongolian family
Mongolia, well known for its nomadic traditions, natural beauty and wonderful landscapes, attracts many international travelers and visitors every year. Domestic tourism has increased as well and many Mongolians now travel locally to visit their family members and relatives or to explore the countryside.The number of exemplary young families who increase public awareness and attitude towards waste pollution among their communities is growing, mainly as a consequence of the enormous amount of waste left in the environment by domestic travelers. Caritas Czech Republic (CCR) in Mongolia made an awareness-raising video about waste pollution under the "Sustainable Plastic Recycling in Mongolia" project with a family who promotes the use of bicycles. Purevdorj, who took part in the video, will share his family's experience of an eco-friendly lifestyle. N. Purevdorj's family has been riding bicycles for many years after giving up cars that cause air pollution and heavy traffic jams in Mongolia.
Please tell us more about yourself and your family.  
My name is Purevdorj N. and I am an economist. I spent my childhood years in Khovd and Ulgii provinces in Mongolia before moving to Berlin for college, majoring as a technician. I worked in the tourism, construction and civil service sector for about 10 years after returning to Mongolia in 2003. Currently, I am self-employed. I provide consulting services to local small-medium enterprises on marketing.
Why did you decide to promote an eco-friendly lifestyle publicly?
We decided to film precious moments of our children, such as their first haircut, first day of school, first performance on stage and first attempt to learn to ride a bicycle, and to save the unlisted videos on  our YouTube channel. Then, we made our first bicycle trip video public on YouTube. Shortly afterwards, a friend of my wife offered to create TV content about our bicycle trips. We created 10 videos with ECO TV Mongolia. We got inspired after realizing that our small action to promote cycling could bring significant benefits to people and to our planet. The positive impact of the regular usage of bicycles isn't only about the environment. There are many advantages of cycling that we wanted to share with people, such as that it is economical, it is good for health, it reduces stress and it develops independence in children.
When did you start riding a bicycle?
I bought a bicycle as soon as I arrived in Mongolia as I was accustomed to commuting by bike everyday when I was in Berlin. Bikes used to be seen as "a toy for children" publicly in Mongolia. But now at any time of the day, every two minutes, I see 2-3 cyclists on the street. Although I am grateful that city officials paid significant attention to improving bike infrastructure following the growth of bicycle users, there is still a lot of work to be done on bike-friendly infrastructure. My wife and I started to commute to work by bikes after I taught her how to ride in 2013. We developed a common interest as a family after a successful attempt to cycle with our children. I noticed how happy my girls became after they learned to ride bicycles. Then, in one autumn, we decided to support our children's idea to cycle to school, so we started to cycle with them to drop them off and pick them up.
Is it difficult to follow an eco-friendly lifestyle in Mongolia?
We stopped using our cars as we started to enjoy the benefits of cycling as a family. Therefore, we sold our car that we rarely used in three years. We want as many people as possible to realize that there is such an opportunity to get rid of all the problems that residents in the city are facing, such as traffic jams, delays and stress. I would like to say that our shift to an eco-friendly lifestyle, choosing a bike as a form of transport, was very simple, facile, and fun.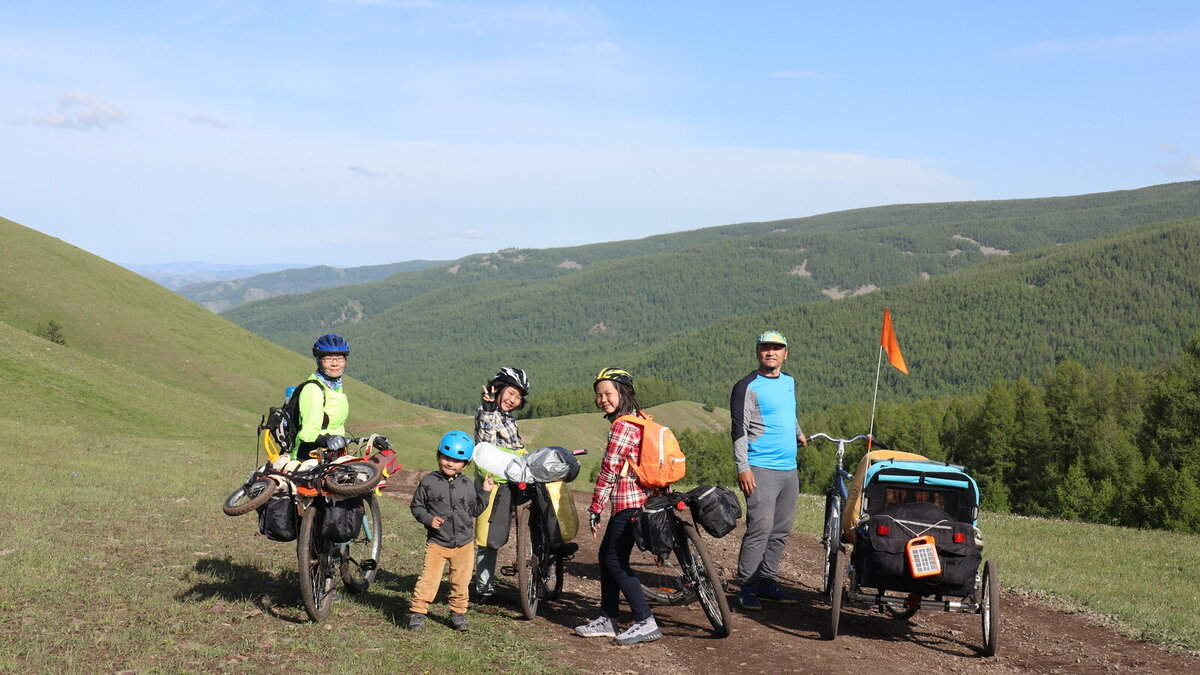 Together with Caritas Czech Republic, you created an awareness raising video about the issues of waste pollution in Mongolia. What led you to do this and what is the purpose of the video?
I realized that the issue of waste pollution has reached an alarming level while I was on a bike trip with my family. We saw scattered waste everywhere on our way to Terelj National Park. I cannot forget it. I even yelled at a woman who was throwing her used tissues out of her car window when I was with my children. After this experience, seeing trash all over the place, we made up our minds to create an awareness-raising video about the problem with waste in Mongolia and so decided to collect the necessary information.
I learned about Caritas Czech Republic when I was taking part in the training on waste pollution that has been organizing under the organization's project called "Sustainable Plastic Recycling in Mongolia". After the training, I made an offer to cooperate in creating the awareness-raising video. I would like to thank Caritas Czech Republic and other project partners for supporting our idea of making the video. The aim of the video was to promote waste separation, collection and classification amongst people.
How bad did the issue of waste pollution in Mongolia seem to you when you were filming the video?
In some places, it felt like mother earth is CRYING due to the pain caused by humans.
What are the negative effects of poor waste management on people and nature?
It is evident that living space for humans will continue to shrink due to the trash if we continue to harm the environment by throwing our waste everywhere. Moreover, the cause of animal extinction and increasing number of various types of diseases will continue to rise.
In your opinion, what action needs to be taken to reduce waste pollution?
There is a possibility of reducing waste or getting rid of waste by applying advanced equipment and new technological innovations in waste recycling and developing a national program to turn waste into raw materials which the government will implement. 
Moreover, we are confident that such workshops and training for people of all ages on waste can play an important role in changing common attitudes towards waste, as we learned and collected a lot of information from the training offered by the Mongolian Sustainable Development Bridge NGO, one of the SPRIM project partners.
You can view the video of Purevdorj N. created within the frame of the project "Sustainable Plastic Recycling in Mongolia", funded by the European Union (SWITCH-Asia Programme),here.
Follow Purevdorj and his family's Facebook page where they promote eco-friendly lifestyles by finding happiness in the simple things.