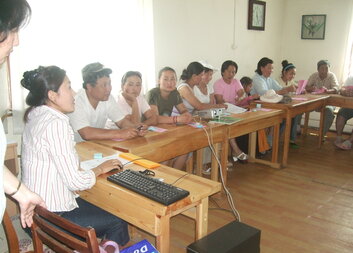 Preparation and Implementation of Social Work Study Programme
There are almost no social workers in state services according to the traditional concept of this profession according to the experts from Asian Development Bank. Although a lot of social workers work in government service on the "social worker" position, they usually have only high school education, and this profession is usually grasped only in terms of performance of administrative tasks.
In December 2005, laws which are crucial in terms of the development problem (general law on social system, law on social security for the disabled and law of social security for seniors) were passed. New legislation determines status and job description of a social worker, and also educational system and system of accreditations of social workers is being implemented by National Council for Accreditation. Despite all the steps taken, there still remains unequivocal lack in system capacity which manifests itself in inability to provide quality social services at appropriate level to appropriate number of clients. There is a number of social issues in the country, such as alcoholism, domestic violence and sexual abuse of children, youth crime, street children phenomenon, and lonely seniors. For this reason, project focuses on the field of social work and aims at support and further development of professional education.
CCR in Mongolia implemented "The preparation and implementation of Social work study programme" (2006 – 2010) along with three project partners: Ministry of Labor and Social Affairs, Mongolian Ministry of Education, Culture and Science and Caritas Mongolia non-governmental organization.
Project focused on following objectives:
- Implementation of appropriate educational program of social work, which stems from the needs of social work system, including provision of support and personnel reinforcement of corresponding state administration authorities and other subjects operating in the field of social work and education.
- Higher quality of already accredited educational programs of social work at universities and high schools in Ulaanbaatar, achieved by securing and conducting of professional field practice as well as of theoretical preparation in the field of direct client work so that the graduate is prepared for the exercise of profession of a social worker in areas of social work and social services provision.
- Securing of systematic support of motivated social workers who don't work in their field of direct work with clients because of the lack of opportunities. They will have a chance to gather practical experience, and, at the same time, to provide quality social services to afflicted and vulnerable groups in Ulaanbaatar.
- Long-term aim: increase of quality of education in social work and contribution to improvement of offer and performance of social work services in Mongolia; acceptance of the socially disadvantaged on the part of the community.
The main beneficiaries of the project were 1) Students of social work, 2) Current social workers who don't work in the field, 3) Employees of nongovernmental organizations and facilities, 4) Employees of ministries, and 5) Universities.